Mari will be proud of us. For those of you who don't read her blog, the following post is an example of something she does all the time.
Lentil and Veggie Tostadas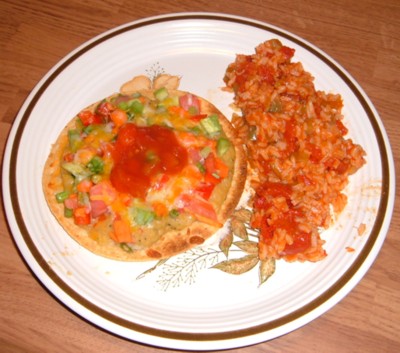 1 3/4 cups water
3/4 cup red lentils
1/4 chopped onion
1-2 tbsp snipped fresh cilantro
1/2 tsp salt
1/2 tsp ground cumin
1 clove garlic, minced
4 tostada shells
2 cups assorted chopped vegetables
3/4 cup shredded Monterey Jack cheese
In medium saucepan stir together water, lentils, onion, cilantro, salt, cumin and garlic. Bring to boiling; reduce heat. Cover and simmer 12-15 minutes or until lentils are tender and most of liquid is absorbed. Use a fork to mash cooked lentils. Spread mixture on tostada shells; top w/veggies and cheese. Broil for 2 min or until cheese melts.
We had this with some Spanish rice, as you can see. Also, topped the tostadas with salsa. We used tomato, green and red pepper, green onion and carrots for the veggies. I think the carrots were too crunchy -- if you use some tougher veggies, maybe saute them in some water first? This is a perfect recipe for emptying out your crisper drawer. We did not have fresh cilantro, so instead used dried -- I think the flavor suffered a little. Our lentils didn't need so much mashing -- they were pretty soft as it was. Overall, they were delicious, but could use a little more spice. Maybe a dash of cayenne? Samantha mentions that they'd probably be good with sour cream, too.