My Storyhill Greatest Hits Album
If you're a regular reader here, you probably know that I'm an obsessive fan of Storyhill, a two-dudes-two-guitars band from Montana/Minnesota. How obsessive, you say? Well, I own a domain name which houses a sporadically updated fan site. But also, on the occasion of a friend of mine becoming a fan (thanks to me, of course), I decided to feed her growing interest by finishing a project I've had in my head for a while now: a Storyhill greatest hits album.
I sent it to her a couple weeks ago, so I figured I'd also post it here. The track list is in reverse chronological order by album, followed by the order they appear on the album. What do you think, Storyhill fans? Did I leave anything out?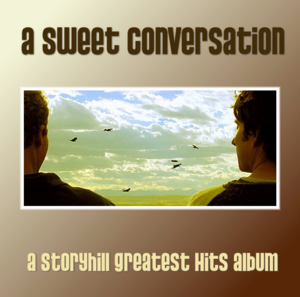 Give Up The Ghost (from Storyhill)
Paradise Lost (from Storyhill)
Seven Sisters (from Dovetail)
What Was Wrong (from Dovetail)
Angel (from Dovetail)
All I Need (from Dovetail)
Inside Emotion (from Echoes)
Great Divide (from Echoes)
Somewhere In Between (from Storyhill Live)
Let The Wind Come In (from Storyhill Live)
Steady On (from Storyhill Live)
White Roses (from This Side of Lost)
Mary On the Mountain (from This Side of Lost)
Spaces (from This Side of Lost)
Absaroka Air (from Clearing)
Tremblin' Tracks (from Clearing)
Loose Summer Clothes (from Clearing)
I-90 (from Miles and Means)
Parallel Lives (from Miles and Means)
If I Could (from Miles and Means)
Boulder River (from Miles and Means)